Continuous operation means simply that! Your boiler is always full, ready and heated when you are, no down time in the middle of a cleaning spree in your home. The reservoir is your water port, when the reservoir goes empty, your boiler is still full and ready to go! An audible signal lets you know to go grab a container of water, pour it in…and keep on cleaning! The Vapor Clean IV offers every feature that is necessary for a "dry" vapor steam cleaner to fit into the category of "excellence". The capabilities are as good if not better than machines sold at twice the price. Our Vapor Clean IV, as all of our machines – feature a pressure gauge, adjustable pressure regulation, stainless steel boiler and detachable hose.
Features & Specifications

Insulated Stainless Steel Cylindrical Boiler 18/10 AISI 304 Tungsten
Flexible 8 Ft. Hose – Fingertip grip on handle to control steam easily with Safety Handle
1.7 ltr boiler / 1.5 Reservoir – 13 lbs empty / 17 lbs full
19″H x 13″W x 12″D
298° = 0 – 65 psi / 4.5 Bar – Continuous Fill system
Replaceable heating element
Pressure regulator allows the raising or lowering of pressure at the tip for perfect utilization of tools provided
Lifetime Warranty - Housing - Heating Element - Boiler - 1 Year Parts & Labor - Home Use
Heats in 10 – 12 minutes
13 foot electrical cord
1500 watts - 12.5 amps Power 110-120V Heating power
All Vapor Clean vapor steamers are guaranteed New and Individually tested at our factories
Made in Italy
MSRP $799.00 | Our Price $589

| | | | | |
| --- | --- | --- | --- | --- |
| | | | | |
| Superheated Dry Steam | Accurate Read Gauge | 25 Standard Accessories | Steam Trigger w/ Safety Lock | Full Range Pressure Regulation Dial |
Vapor steam cleaning is particularly effective on almost every hard surface in your home, tiling in bathrooms and kitchens, tile and "sealed" wood floors, kitchen counter tops, sinks, oven tops, caked dirt. Mold and food spills in and on refrigerators, upholstery, wrinkled clothes, dirty walls, wallpaper, cleaning windows and screens, automobile interiors and tires, ovens, defrosting refrigerators. The possibilities are endless. Using a vapor steam cleaner can speed up the time it takes to do challenging cleaning tasks while actually ending with a finished product that exceeds any chemicals.
Check out our accessories section in the menu above to see some of our specials offered today and unique items for your steam cleaner. Our buyers favorites include our classic Bonus Pack which is a $60 value offered at 39.95 the time of purchase. This great deal includes $42.00 worth of cleaning brushes, carry bag, microfiber towel and mop pad. From microfiber mop pads, towels, intensifier pads, we have an arsenal for your cleaning job.
Standard Accessories Included: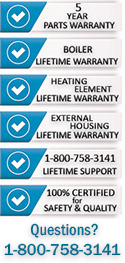 2 Extension wands for medium heights to floor cleaning
1 Large floor cleaning cloth
2 16×16 Microfiber Towels
1 Flexible 8 Foot hose with lock safety trigger
1 Brass Detail Brush
1 Large floor brush with clips
1 Accessory adapter
7 Nylon Detail Brushes
1 Funnel
1 Detail nozzle
1 Triangle Brush
1 Window Squeegee
1 Stainless Detail Brush
1 Scraper
2 Stainless Steel Scrubbies
Optional Accessories:
Soft Hair Detail Brushes
Filler Pads
Compare
Below is an overview of similar products in the marketplace in direct comparison with the Vapor Clean IV. To Compare all Vapor Clean machines and their features please visit our Help me Choose page.
Product
Boiler Temp
Pressure
Watts
Accurate Read Gauge
Housing
Accessories
Origin
Price
Warranty

Vapor Clean IV

298

65 /4.5 bar

1500

yes

Plastic

25

Italy

$589

1 P&L / Life Boiler




& Heat Element

Enviromate E5
293
58 psi/4 bar
1450
no
Plastic
18
Romania
$699

1 Yr / Life Boiler

Whitewing
Breeze
311
72 psi/5 bar
1750
no
Plastic
20
China
$799
Limited 1 Yr / Life Boiler
Dupray
One Plus
298
65 psi/4.5 bar
1400
no
Plastic
15
Europe
$849
1 Yr / Life Boiler
Ladybug
2150
290
58 psi/4 bar
1500
no
Plastic
13
Italy
$1095
Limited 1 Yr / Life Boiler
Ladybug
2200
298
60 psi/4.2 bar
1500
no
Plastic
16
Italy
$1349
Limited 1 Yr / Life Boiler
Vapor Blitz
298
65 psi/4. bar
1700
no
Plastic
15
Italy
$2099
90 Day / 3 Boiler
Save
Save
If your machine is not functioning properly, please call the Vapor Clean helpline at 1-800-758-3141 or submit a service request. Many issues can be rectified over the telephone or via email with our trained customer care staff. Before service can take place, the terms of the warranty require that you complete and submit a request for service.
What is covered:
Your Vapor Clean machine is warranted under against original defect in material and workmanship for the duration of the warranty period excluding accessories, attachments and normal wear parts when used in accordance with operating instructions under normal and reasonable use. This warranty provides at no extra cost to you, all labor and parts to place your product in proper operating condition for a period of one year from date of purchase to the original purchaser. Click
here
for full description of warranty