One of the best kept secrets in the world of quality Italian steam cleaners is our Alfa. The stainless steel housing, high gloss enamel finish sets a standard far above the competition. The moment you pick up this unassuming small portable machine you will know there is more to this package than meets the eye. A stylish yet simple design for extraordinary ease of function. The Alfa is perfect for the homeowner as it packs all the quality components and accessories sold in machines 3 times the price.
4.5 Bar 65 PSI
302 F. Boiler Temp r 1500 W Commercial stainless boiler
2 liter capacity for extended use
13x10x8 lightweight and portable
8 Ft. hose
Pressure gauge to confirm your machine is operating as designed and advertised
High Gloss enamel stainless housing for high durability
5 year parts / Lifetime boiler & Heating Element Warranty
MSRP $729.00 Your Price today - $599.00
Standard Accessories include: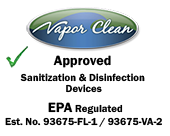 2 Extension wands
1 Bristled floor brush with clips
1 Floor brush glider
1 Window Squeeqee
1 Triangle brush with clips
1 Jet nozzle
1 3 Hole jet nozzle
1 medium round brush
1 triangle medium brush
1 Fill bottle
2 fill bottle tops
10 mixed detail brushes
2 microfiber towels
1 Stainless Scrubbie
1 Large cotton floor towel
Check out our accessories section in the menu above to see some of our specials offered today and unique items for your steam cleaner. Our buyers favorites include our classic Bonus Pack which is a $60 value offered at a discount at the time of purchase. This great deal includes $42.00 worth of cleaning brushes, carry bag, microfiber towel and mop pad. From microfiber mop pads, towels, intensifier pads, we have an arsenal for your steam cleaning job.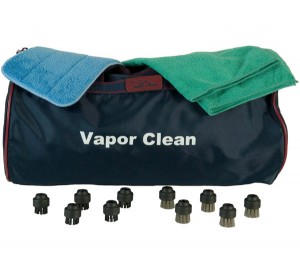 If your machine is not functioning properly, please call the Vapor Clean helpline at 1-800-758-3141 or submit a service request. Many issues can be rectified over the telephone or via email with our trained customer care staff. Before service can take place, the terms of the warranty require that you complete and submit a request for service.
What is covered:
Your Vapor Clean machine is warranted under against original defect in material and workmanship for the duration of the warranty period excluding accessories, attachments and normal wear parts when used in accordance with operating instructions under normal and reasonable use. This warranty provides at no extra cost to you, all labor and parts to place your product in proper operating condition for a period of one year from date of purchase to the original purchaser. Click
here
for full description of warranty
Steam Is Hot

Vapor Clean provides an example of the Vapormax and Unilux 300...