The most affordable High Quality Commercial Continuous Fill on the market.

Our Pro6 has evolved into an extremely functional, reliable and highly rated machine by our customers in Business and Home alike. Our intentional design over years of improving anything we could find to create the finest built with the highest reliability that cannot be found in this class and most others in the Marketplace. Our Pro6 Duo is designed for our harsh condition extended use customers in the field and for the homeowner that wants the best available.

Built to Last - The commercial stainless steel housing and stainless 18/10 AISI 304 quality boiler speak for itself. The Pro6 Duo offers such features as an industrial grade detachable hose with accessories to match. Internally, every component is the highest quality and designed to last. Copper Tubing, Brass Fittings, Double coated circuitry, heavy gauge wiring, additional insulation.
Features - Adjustable pressure regulator allowing you to control the amount of steam/pressure output for your specific cleaning task. The pressure gauge will give you an exact indication at all times to optimize your cleaning. Audible low water beeper, 1750 watt element for fast recovery. Designed with a portable size, maneuverability, rubber bumper and rounded edges. No sharp edges or extruding parts to damage furniture, autos or shins while cleaning.
General Overview
327° = 0 - 87 psi / 6 bar
Commercial Grade Stainless Housing with rubber bumper and rounded edges.
Commercial Grade Accessories and Components
Stainless Steel Insulated Boiler AISI 304 18/10 Tungsten Welded boiler - Lifetime Warranty
1.8 capacity boiler - 2 Qt. reservoir...non-stop 24/7 refill reservoir no down time to refill and reheat
Heat dissipating Internal Cooling fan to increase longevity of internal components
Replaceable Heating Element - Lifetime Warranty
Powerful 1750 watt element for faster recovery, 7 min heat up
Variable Pressure Regulator
Accurate read pressure gauge
12Lx12Wx11.5H - 14 ft electrical cord
9.75 ft extended length detachable Hose w/ Safety Handle and fingertip control
Audible beeper notification when reservoir needs refilling
Heavy load CEME water pump for consistent flow and less stress
16 lb empty - 23 lbs full
A complete set of 31 excellent commercial tools & accessories
Large selection of optional accessories

See Below

4 Large Casters for easy mobility & durability
All Vapor Clean vapor steam cleaners are guaranteed new, and Individually tested at our factories.
Made In Italy to US standards
LIFETIME WARRANTY - Boiler / Heating Element / Housing & 5 years parts.
MSRP - $1495

$1049

SALE - Take an additional $50 off Now $995*



*offers can not be combined
All accessories shown here are part of your package when purchasing the Pro6 Duo.
| | | | | | | | |
| --- | --- | --- | --- | --- | --- | --- | --- |
| Heavy Duty Hose | Extension Wands | Floor Brush | Large Triangle Brush | 10 Mixed Detail Brushes | Extended Nozzle | Single Hole Nozzle | 3 Hole Nozzle |
| | | | | | | | |
| | | | | | | | | |
| --- | --- | --- | --- | --- | --- | --- | --- | --- |
| Window Squeegie | Med Round Brush | Triangle Brush | Carpet Glider | Microfiber Towels | Fill Bottle | Scrubs | 1000 Thread Towel | |
| | | | | | | | | |
| | | | | | |
| --- | --- | --- | --- | --- | --- |
| Bonus Pack Special -Time of purchase | Ultra - Steam pads | Plumbers Helper | 2 Tub Cart | 4 Pack Mop Pads | Filler Pad |
| | | | | | |
| | | | | | |
| | | | | | |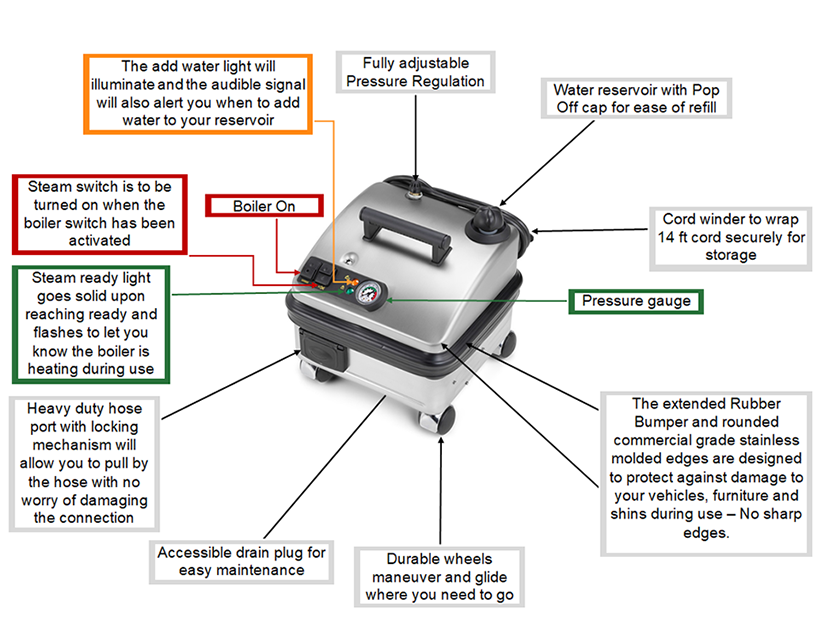 What is Continuous Refill?
Continuous Refill simply means that you have a non-pressurized reservoir that you fill that pumps the water into the boiler as needed. The boiler is always full for quick heat and never worry how much water is in the boiler. In comparison to a single boiler with a pressurized cap that when the boiler runs out you will need to refill and reheat. The Pro6 Duo will heat in about 7 minutes and you are ready to go.
What type of water do I use?
We recommend filtered water if possible. Do you use straight distilled if you prefer, tap water will need to be added. The sensors in the machine do not detect actual water, they detect the minerals in the water. Distilled is void of minerals. Always good quality low mineral content water is best such as filtered or bottled.
A few technical highlights of our Pro6 Duo that singly or combined make this machine stand far above the rest in this category.
Our Cooling fan dissipates the internal heat to increase the longevity of internal components of your Pro6 Duo. Thermal imaging displays the heat levels and the decrease when the Internal fan is applied. This lessens the overall strain put on components when entering higher levels of heat.




Upgraded Brass steam tubes from the standard tubes used widely throughout the industry.
A substantially larger CEME water pump reduces the stress on the component for longer life and creates a more consistent flow.

Heavy 12 and 14 gauge wiring.
Internally protected removable Water level sensor.
120v 20 Amp main power switch
Dual 180c reset high limit thermal fuses providing an extreme shield from tripping or blowing your internal fuses. This allows a further separation of load again to remove stress on components. We use reset fuses in comparison to a "single shot" fuse avoiding replacement if they did trip and a simple restart.
Thank you for your purchase of the Pro6 Duo! This short informational sheet will help familiarize you as
you start up your machine upon first use or after any future restart from empty boiler after maintenance.
1. Remove the pop off black cap from the reservoir and fill to the top with filtered water or high quality tap water. Do not use distilled unless mixed with tap water at a minimum ratio of 20% tap/80% distilled.
2. Push down both power & steam buttons that will light orange/red. The pump will begin to pump and both the yellow low water and green lights will flash, the orange light will stop flashing, the green light will continue to flash. You may need to add water more than once. The gauge will rise to approx. 6 bar and the heating light will go solid.
3. During this time you may attach your hose and confirm it is locked in place.
4. When the gauge has stopped and the steam ready light is solid pull the trigger on the hose and begin releasing air from the boiler. The first release will cause the gauge to drop quickly to approximately 2 bar. This has now released a large portion of air from the boiler.
Allow the gauge to rise again to the 6 bar range and the ready light is solid – pull the steam trigger and release. This time it should only drop to 3-4 Bar and repeat this action typically one more time.
You are now ready to steam, your boiler is full and will stay that way unless you empty it for maintenance. Refill anytime your refill light illuminates and the beeper notifies you. Your steam ready light will always go solid while heated and sitting idle, and will flash when you are using the machine as this indicates the boiler is heating as you are steaming.
Remember, the lower the steam pressure, the higher the consistent temperature and the drier the steam and your pressure will stay more consistent

Pressure is great for down and dirty cleaning, but for everything else....turn it down! More condensation will occur at a higher pressure output and quicker unnecessary added pressure loss....so once again, keep it down and let the heat do the cleaning
The #1 rule is maintain! 90% of all service are machines that have not been maintained or just simply treated poorly. The moral is take care of your machine and it will take care of you for many years to come.
Depending on your type of water (never anything but water) you are using it is important to flush your machine to clear out buildups that cause problems.
Terms of the Vapor Clean warranty (What is covered and what is not covered.)
If your machine is not functioning properly, please call the Vapor Clean helpline at 1-800-758-3141 or submit a service request. Many issues can be rectified over the telephone or via email with our trained customer care staff. Before service can take place, the terms of the warranty require that you complete and submit a request for service. No warranty cards, no timelines.

What is covered:
Your Vapor Clean machine is warranted under against original defect in material and workmanship for the duration of the warranty period excluding accessories, attachments and normal wear parts when used in accordance with operating instructions under normal and reasonable use. This warranty provides at no extra cost to you, all labor and parts to place your product in proper operating condition for a period of one year from date of purchase to the original purchaser if defective. Our extended warranty covers 4 additional years defective parts, lifetime boiler, heating element and housing excluding labor.

What is not covered:
Damage due directly or indirectly to misuse, abuse, negligence, accidentals

Disassembly, repair or alteration outside a certified service center.

Careless operation, handling, lack of maintenance or use not in accordance with the provided instructions and/or owners manual.

Continued use of the product when a malfunction of the machine is obvious. Ex., a small internal steam leak easily corrected, over long term use can render a machine non-repairable.

Designated residential/home equipment is used in commercial use.

Cleaning blockages (mineral or man made) from machine or replacing parts associated with blockages or electrical surges / outages. Improper electrical sources.

Product has been operated with substances other than high quality city tap water, bottled, filtered or distilled water or any substance introduced into the boiler other than acceptable stated waters will void warranty. Do not use well water or any water with high mineral content.

Parts subject to wear and tear not determined defective or items such as O-rings, brushes, hoses, accessories.


A major force, or use of other electricity other than that indicated on the Product

Unauthorized service returns. Purchaser must contact retailer prior to shipping product for repair to receive proper instructions and authorization
All work will be carried out by a Vapor Clean authorized service center, or its authorized agents.
Good Practices to maintain your warranty and avoid service needs:
dropping your machine

putting anything other than appropriate water in the tank

never continue using if there appears to be a problem and not contacting Vapor Clean immediately to discuss.

storing in cold / allowing to freeze

lending it to untrained users

snapping off the ground plug, low rated extension cords


failure to heed best practices and maintenance

failure to keep minerals from building up in the tank

running boiler empty after machine notifies user for more water causing auto shut down
The sole and exclusive remedy under this warranty is repair or replacement at the Manufacturers option, of any product that proves to be defective in manufacture or materials within above stated period.The boiler vessel and heating element are warrantied for the life of your product extending beyond the 1 year stated full warranty excluding labor and shipping costs.
The manufacturer advises the purchaser to insure the shipment against possible loss or damage in transit. The manufacturer will not be responsible for items lost or damaged in transit.
No Coupons can be applied for service, labor, parts or shipping.
Coupons are offered via online as promotions and customer emails for purchases. Coupon codes provided directly to our buyers are available for one time purchases and not reusable and are valid only one per household or business. We do not accept coupon codes or discounts above 5% for purchases of multiple machine purchases.
5 years defective parts and housing warranty effective after 8/7/2017 from date of purchase.The manufacturer or its representatives is not liable for any consequential or incidental damages (including personal injury, property damage or monetary loss) that may be incurred from purchase, use, or improper use of the product. Maximum liability shall not exceed the purchase price of the product paid by the original purchaser.
Some states do not allow the exclusion or limitation of incidental or consequential damages.
All debts incurred by services rendered by implied contract or product purchases by agreement to the term sand policies put forth by Puregreen International LLC., at the directors discretion may be turned over to a third party agency for collection. Additional fees will be applied for processing such claims.
Our Pro6 has evolved into an extremely functional, reliable and highly rated machine by our customers in business and home alike. Our intentional design affords the Pro6 a fast heat while providing a well maintained pressure. The powerful 1750 watt element allows for faster heating and quick recovery. The Pro6 reservoir holds 2 additional quarts for long time running before adding additional water into the reservoir. Our Pro6 is a convenience and a luxury for the homeowner, but a necessity for the business owner. Our full service warranty includes 1 year defective Parts & Labor and lifetime boiler and heating element replacement. All service is provided by Vapor Clean.
Check out our accessories section in the Tab above to see some of our specials offered today and unique items for your steam cleaner. Our buyers favorites include our classic Bonus Pack which is a $60 value offered for $39.95 at the time of purchase. This great deal includes $42.00 worth of cleaning brushes (stainless, nylon or horsehair), carry bag, 2 microfiber towels and mop pad. From microfiber Ultra-steam pads, mop pads, towels, intensifier pads, we have an arsenal for your cleaning job.

Below is a basic comparison chart provided to gather basic information and comparisons of similar products on the market. When making a purchasing decision there are many factors we consider, some that we may think of and often ones we don't.
Pro6 Duo Compare Steam Cleaners on the Market of Similar Price or Function