1.Continuous fill for non-stop cleaning
Featuring a continuous refill boiler pressurized at 75 psi creating 318° of hot cleaning power. An audible signal notifies you when to add more water to the 1.5 ltr reservoir and continue to clean! Read more on Continuous Fill
2.Wet / Dry Vacuum
The bag-less water filtration system traps 99.9% of dirt and dust in the collection tank and exits through the additional filter. The two stage filtration system will contain nearly all contaminants, allergens driven by a commercial strength two stage vacuum motor. The vacuum has adjustable suction for delicate items such as draperies to high suction for carpets.
3, Detergent / Water Injection
A separate reservoir allows the choice of cleaning agent or water to be injected into the steam flow or alone for deep carpet cleaning, furniture, auto detailing and any task that may require a boost or rinse.
4.Two steam cleaners in one
To add to the fun, you have 2 hoses to choose for your need. Use the standard hose and proceed to steam and extract carpet, upholstery, autos, or even vacuum the floor while steaming. Switch your hose to the extra flexible 10 foot steam / injection only hose and use the Desi Plus as a steam cleaner with the two buttons to add injection of water or appropriate detergent for a boost with the. The Desiderio steam / vapor and injection system gets out stains that conventional machines leave behind while eliminating the bacteria, molds and mites which cause annoying allergies.
Insulated Stainless Steel Cylindrical Boiler 18/10 AISI 304
318° = 0 – 75 psi / 5 bar – Continuous Operation (240° – 294° Tip Temperature)
Powerful 1700 watts 110/120 designed to work on any household outlet. This unit produces steam and extraction in a well designed balance of power distribution
Flexible 8 Ft. Vacuum Hose – Fingertip grip on handle to control steam easily with Safety Handle – Steam, Vacuum and Inject Simultaneously – or separately
Water Collection Tank 2 – 4 Liter for recovery of dirt and debris and all airborne particles
2.7 ltr boiler / 1.5 ltr injection reservoir – Excellent results can be achieved for cleaning carpet stains, traffic areas and overall cleaning
Highly manageable 11.5 wide x 18.5 high x 14 long
Commercial grade 2 stage vacuum allows high suction level with adjustable dial for full range of desired extraction level
Replaceable heating element
Adjustable Pressure regulator allows the raising or lowering of pressure at the tip for perfect utilization of tools provided
Heats in 12-14 minutes
Oversized 17 foot electrical cord
Full range adjustable vacuum level of suction
High Impact ABS Exterior Housing / Crash Helmet Material
30 lb weight with boiler filled
1 Year Parts & Labor – lifetime boiler & heating element
All Vapor Clean vapor steamers are guaranteed New, and Individually tested at our factories

Made in Italy
MSRP $2295.00 | Our price $1895 | Sale $1695
"Desiderio Plus In-Depth"
In this video our technician shares every detail of how it works and how to use it like a pro!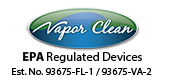 Equipped with a perfect combination of 318 degrees steam cleaning power with a commercial strength two stage vacuum and combined injection system, the Desiderio will allow you to clean and sanitize virtually every surface imaginable.
Remove chemical buildup in your carpets and clean with steam - with excellent results!
There are many carpet cleaning products on the market, and several methods used to clean carpets. Chemicals and soaps are used to clean carpets, but not all of the chemical is extracted from the carpet during the process. Some experts say that, depending on the chemicals and equipment used, as much as 75% of the chemical can remain in the carpet. Most chemicals work by bonding with the soils in the carpet, thus allowing both the chemical and the soil to be extracted. Unfortunately, this process does not stop when the cleaner leaves the premises. Instead, the chemicals continue right on bonding and locking in dirt. Hot water / steam evaporates faster, reducing over wetting of padding and potential mold and mildew growth. Hotter water breaks down water-soluble soiling faster. Heat acts as a catalyst promoting quicker reactions between chemicals and the soil."
Watch as this hard to clean "Berber" traffic area carpet is revived with no soap at all!! This is "real steam" not like the big names that call their brands carpet steam cleaners when all they really do is sell you cleaners and no steam! The Desiderio is not intended for carpet cleaning companies, only to replace them.
1. The carpet below was actually "cleaned" (image 1) with a Rug Doctor, lots of soap and "stain removers" purchased for Rug Doctor "Steam Cleaners" by a soap crazed tenant with the "more is better theory".
2. We injected "actual" steam and heated water from the Desiderio – the soap residue left from the previous method began to foam excessively (image 2).
3. The water filtration system was filled with not only dirty water from the "cleaned" carpet, but also the soap that had been left in the fibers was extracted out of the carpet (image 4).
4. The Desiderio not only removed all of the soap in the fibers – also cleaned the stain and carpet far better than any other method. Finally, chemical free, far improved appearance, healthier and will extend life to the carpet. (image 3).
Many home and rental store carpet machines advertise the term "Steam Cleaners" however, this term is used incorrectly and can be misleading to the consumer. There must be a heating element in a product to enable the actual heating of water to an optimal temperature for thorough cleaning. 
We have yet to find a Hoover, Rug Doctor or Bissell that offers this feature.

However, they do offer many varieties of...... pre-treatments, cleaners, enzymes, anti-foamers, spot removers, traffic area treatments, odor removers, pet stain removers etc. for purchase to clean your carpets with the machine. Whew! No other system on the market in a standard 110 electrical outlet can produce the high dry steam temperature and extraction capability as the Desiderio at the same time!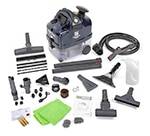 Refill bottle
Round brush with hard bristles
Grey round brush attachment
Self-lubricating O-ring kit
Rectangular brush complete kit
Upholstery and deep carpet tool
Window cleaner
Extension wands (2pcs) set
Nozzle with 1/2 brush
Sprinkler / Nebulizer
Flexible hose with hand-grip
Curved detail attachment
Small brush for nozzle,
1/2 small brush for lance
Triangle brush
2 Stainless Steel Scrubbies
2 16x16 Microfiber Towels
Air-turbo brush: Vacuum generated "beater bar" for carpet vacuuming and simultaneous steaming if preferred

*BONUS *
Extra-Flex Steam Injection Only Hose and curved jet nozzle included free for limited time! $120 Value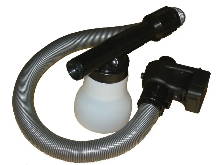 NEW - Fogger / Nebulizer

for disinfection of rooms,vehicles or many possible applications, this add-on completes the Desiderio in every way - $139.95
Below is an overview of similar products in the marketplace in direct comparison with the Desiderio Plus. To Compare all Vapor Clean machines and their features please visit our Help me Choose page
| | | | | | | | |
| --- | --- | --- | --- | --- | --- | --- | --- |
| | | | | | | | |
| | | | | | | | |
| | | | | | | | |
| Reliable Tandom Pro 2000CV | | | | | | | |
| | | | | | | | |
Below you will find information about out products and policies. The links will open in new windows, so you can stay on this product.
Warranties
Returns
Terms & Conditions
Manual
Save
Save
Save
Save
Save
Save
Save
Save
Save
Save
Save
Save