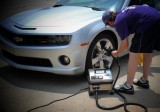 The most affordable Quality Commercial Continuous Fill on the market.
Built to Last - The commercial stainless steel housing and stainless 18/10 AISI 304 quality boiler speak for itself. The Pro6 Duo offers such features as an industrial grade detachable hose with accessories to match. Internally, every component is the best available on the market. Using only the highest quality and longest lasting durable parts available. Copper Tubing, Brass Fittings, Double coated circuitry, heavy gauge wiring, additional insulation.
Features - Adjustable pressure regulator allowing you to control the amount of steam/pressure output for your specific cleaning task. The pressure gauge will give you an exact indication at all times to optimize your cleaning. Audible low water beeper, 1750 watt element for fast recovery. Designed with a portable size, maneuverability, rubber bumper and rounded edges. No sharp edges or extruding parts to damage furniture, autos or shins while cleaning.
327° = 0 - 87 psi / 6 bar
Commercial Grade Stainless Housing, Accessories and Components
Stainless Steel Insulated Boiler AISI 304 18/10 Tungsten (TIG) Welded boiler - Lifetime Warranty
1.8 capacity - 2 Qt. reservoir...non-stop 24/7 cleaning time 9 minute heat up
Replaceable Heating Element - Lifetime Warranty
Powerful 1750 watt element for faster recovery, low 13 amp draw.
Variable Pressure Regulator
Accurate read pressure gauge
12Lx12Wx11.5H - 15 ft electrical cord
9.75 ft extended length detachable Hose w/ Safety Handle and fingertip control
Audible beeper notification when reservoir needs refilling
14 lb empty - 18 - 20 lbs full
A complete set of 31 excellent commercial tools & accessories
Large selection of optional accessories

View Here

4 Large Casters for easy mobility & durability
All Vapor Clean vapor steam cleaners are guaranteed new, and Individually tested at our factories.
Made In Italy for USA
LIFETIME WARRANTY - Boiler / Heating Element / Housing & 5 years parts.
MSRP - $1495 Sale $995

Standard Accessories Included:

2 Extension wands
Floor brush w/ clips
Carpet Glider
Triangle brush w/ clips
9.5 Flexible hose
Window squeegee
Jet Nozzle with single hole
Jet Nozzle with 3 holes
Jet Nozzle - Extended length
Medium round brush
Medium triangle brush
2 Stainless, 7 Nylon, 1 Brass detail cleaning brush
Water Fill Bottle
2 Stainless Scrubbies
2 16x16 Microfiber Towel

Optional Accessories Available

Medium Round Horsehair Brush 2.25

Small Horsehair Detail Brushes
Plumbers Helper / Drains
Extended Jet Nozzle
Scraper
Clothing Brush
14ft Hose with Trigger Design
Steam Intensifier Pads
Cart
And much more....
Our Pro6 has evolved into an extremely functional, reliable and highly rated machine by our customers in business and home alike. Our intentional design affords the Pro6 a fast heat while providing a well maintained pressure. The po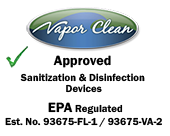 werful 1750 watt element allows for faster heating and quick recovery. The Pro6 reservoir holds 2 additional quarts for long time running before adding additional water into the reservoir. Our Pro6 is a convenience and a luxury for the homeowner, but a necessity for the business owner. Our full service warranty includes 1 year defective Parts & Labor and lifetime boiler and heating element replacement. All service is provided by Vapor Clean.
Check out our accessories section to see some of our specials offered today and unique items for your steam cleaner. Our buyers favorites include our classic Bonus Pack which is a $60 value offered for $39.95 at the time of purchase. This great deal includes $42.00 worth of cleaning brushes (stainless, nylon or horsehair), carry bag, 2 microfiber towels and mop pad. From microfiber Ultra-steam pads, mop pads, towels, intensifier pads, we have an arsenal for your cleaning job.
Compare Brands

Above is a basic comparison chart provided to gather basic information and comparisons of similar products on the market. When making a purchasing decision there are many factors we consider, some that we may think of and often ones we don't.
Save
Save
Save
Save
Save
Save
Save
Save
Save
Save
Save
Save
Save
Save
Save
Continuous Operation - Heavy Residential - Commercial Use
Our Pro6 Duo steam cleaner has been perfected to give you the most for your investment. The functional design stands far above comparable steam cleaners in the market and continues to offer unbeatable value.
Warranties Returns Terms & Conditions