This portable yet durable cleaner is ready to steam and take care of your task! Highly featured, fully loaded with a wide variety of heavy duty accessories. A stylish yet simple design for extraordinary ease of function.
4.5 Bar 65 PSI
298 F. Boiler Temp r 1500 W Commercial stainless boiler
2 liter capacity for extended use
13x10x8 lightweight and portable
8 Ft. hose
Pressure gauge to confirm your machine is operating as designed and advertised
High Gloss enamel stainless housing for high durability
5 year parts / Lifetime boiler & Heating Element Warranty
MSRP $729.00 Your Price today - $599.00
Standard Accessories include: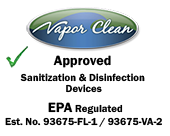 2 Extension wands
1 Bristled floor brush with clips
1 Floor brush glider
1 Window Squeeqee
1 Triangle brush with clips
1 Jet nozzle
1 3 Hole jet nozzle
1 medium round brush
1 triangle medium brush
1 Fill bottle
2 fill bottle tops
10 mixed detail brushes
2 microfiber towels
1 Stainless Scrubbie
1 Large cotton floor towel
Check out our accessories section in the menu above to see some of our specials offered today and unique items for your steam cleaner. Our buyers favorites include our classic Bonus Pack which is a $60 value offered at a discount at the time of purchase. This great deal includes $42.00 worth of cleaning brushes, carry bag, microfiber towel and mop pad. From microfiber mop pads, towels, intensifier pads, we have an arsenal for your steam cleaning job.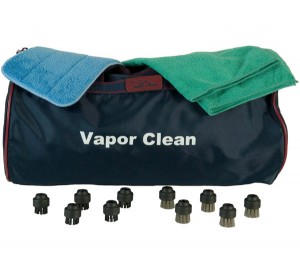 Heavy Residential Use – Light Commercial
Steam Is Hot

Vapor Clean provides an example of the Vapormax and Unilux 300...